Swedish Metal legends UNANIMATED have released another single from their upcoming album, 'Victory in Blood'. The new track, "As the Night Takes Us", comes off the band's first studio effort in more than a decade, which will be released on December 3rd, 2021 via Century Media!
"As the Night Takes Us" is available now on digital + streaming platforms, and a lyric video for the single can be found HERE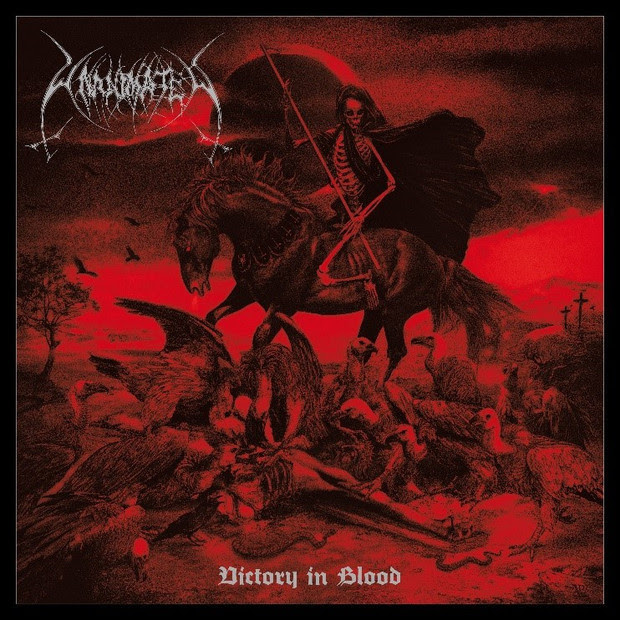 'Victory in Blood' (Tracklist):
LP1
Side A
Victory in Blood (3:56) Seven Mouths of Madness (3:30) As The Night Takes Us (4:14) The Devil Rides Out (3:13) With a Cold Embrace (1:08) 
Side B
Demon Pact (Mysterium Tremendum) (5:29) XIII (6:12) Scepter of Vengeance (3:58) Chaos Ascends (2:00)
LP2
Side C
The Golden Dawn of Murder (4:20) Divine Hunger (2:05) The Poetry of the Scared Earth (6:58) Satanic Lust (Cover) (only on Vinyl) (3:16)
Side D
Etching
The truly incredible artwork and layout was handled by none other than Daniele Valeriani (Mayhem, Triptykon, Behemoth, Dissection, etc. – just to name a few).
The vinyl version comes in a Ltd. Gatefold 180g. 2LP, with an Etching on Side D, Art Print, and 12-page LP-Booklet. This exclusive vinyl edition also includes a cover version of Brazilian metal legends Sarcófargo, which will be only available in this format. The CD version comes as a 6-panel Pocket Pac (eco-friendly enclosure) with a 12-page CD-Booklet. Also available as a digital album.
PRE-ORDER 'Victory In Blood' HERE
UNANIMATED is:
Richard Cabeza – Bass
Jojje Bohlin – Guitar
Jonas Derouche – Guitar
Anders Schultz – Drums
Mikael Broberg – Vocals
UNANIMATED online:
http://www.facebook.com/unanimatedofficial
http://www.instagram.com/unanimatedofficial
https://twitter.com/unanimated666