ORPHANED LAND celebrate their 30th anniversary. Three decades of creating music, performing live shows around the globe and spreading the message of peace.
For this very special occasion the band releases a Ltd. CD box set including 8 CDs featuring 6 full-length albums and a bonus song collection from the past 30 years on two extra CDs. The box also contains an extended 112-page booklet with special liner notes for each album from Kobi Farhi. Out on December 10th 2021.
Being proud of their career and happy about this special anniversary frontman Kobi Farhi states:
"Wow….it's unbelievable 30 years have gone already! Looking back, we feel so proud we succeeded to extend the metal scene from the well-known American, South American, European & Scandinavian scenes, we made it wider when we started the 'Oriental Metal' genre and introduced metal from the Middle East to the world, since 1991. 
Cheers for the next 30 years!"
World famous stars commented on the musical work of the band. These are only a few statements from the past:
"Orphaned Land are singing about the troubles in the Middle East and I really like what they are doing!" – Kirk Hammett (Metallica)
"The Best Hardrock band came out of the Middle East" – Ozzy Osbourne
"One of the best metal bands not just in Israel, but in the whole world" – Steven Wilson (Porcupine Tree)
"Orphaned Land combines an operatic quality and world music exotica with driving rock sensibility"  – Steve Hackett (Genesis)
"What keeps me so thrilled about it is this perfect blend of different musical cultures and the constant wave of emotions these guys have woven together in a stroke of genius. All of their work is a strong statement for humanity" – Hansi Kürsch (Blind Guardian)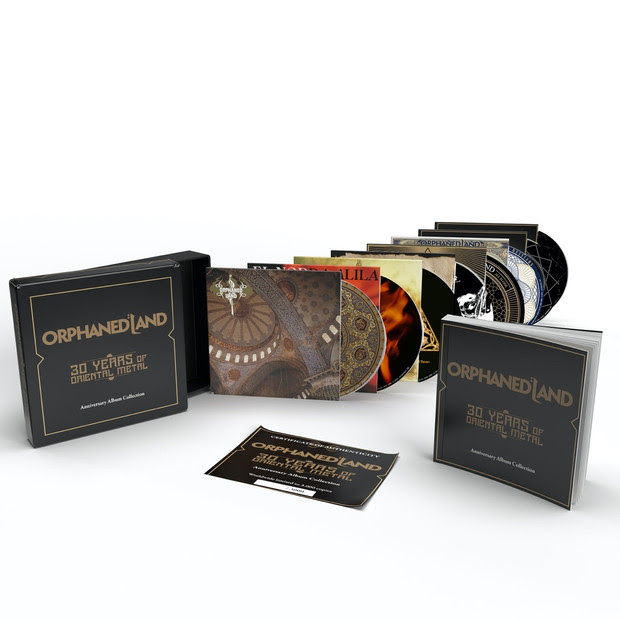 "30 Years Of Oriental Metal" will be available as Ltd. 8CD Box Set including a hand-numbered certificate of authenticity and can be pre-ordered HERE https://orphanedland.lnk.to/30YearsOfOrientalMetal as of now.
ORPHANED LAND are:
Kobi Farhi – Vocals
Chen Balbus – Guitars
Idan Amsalem – Guitars
Uri Zelcha Bass –
Matan Shmuely – Drums
ORPHANED LAND online:
Website http://www.orphaned-land.com/  
Facebook https://www.facebook.com/OrphanedLandOfficial
Twitter  https://twitter.com/orphanedland
Instagram https://www.instagram.com/orphaned_land_official/