LORNA SHORE are excited to announce headlining dates for the UK in February of 2022. Support will come from Distant and Cabal.
"We are excited to have Cabal and Distant alongside us for our return to the UK. Our time there last year was sadly cut short, but we are ready to return with a vengeance and put on a show like never before. You won't want to miss out on this." – Austin Archey
Cabal also comment: 
"We are psyched to be joining the mighty Lorna Shore for their headlining tour across the UK. We've been fans of theirs since they released the Maleficium EP, and remember clearly the first time we heard their jawdropping breakdowns in Godmaker. It's been an absolute pleasure following these guys, and seeing their success with the recent EP is just so heartwarming and well-deserved. Having met the guys on a few occasions both in the US and in Denmark when they guested Aarhus with our friends in Ingested, we are extremely keen to get to know the guys even better and wreak havoc on the UK together, along with the heavy-hitting gentlemen in Distant. We can't wait for January!"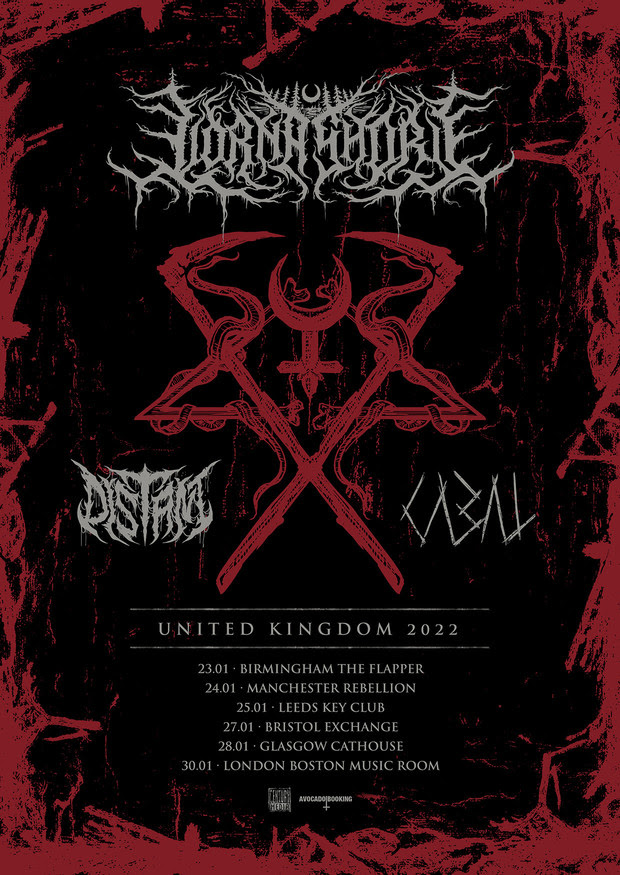 LORNA SHORE UK TOUR 2022
Special Guests: Distant, Cabal
23.01.22 (UK) Birmingham – Flapper
24.01.22 (UK) Manchester – Rebellion
25.01.22 (UK) Leeds – Key Club         
27.01.22 (UK) Bristol – Exchange
28.01.22 (UK) Glasgow – Cathouse
30.01.22 (UK) London – Boston Music Room
Tickets will go on sale Friday, October 22 at 10am UK time
(Please note that the tour remains subject to the global pandemic situation.)
In recent news LORNA SHORE announced their participation in Bring Me The Horizon's 'Survival Horror European Tour' in February 2022 alongside A Day To Remember and Poorstacy.
01.02.22 (BE) Antwerp – Lotto Arena
03.02.22 (FR) Lyon – Halle Tony Garnier
04.02.22 (ES) Barcelona – Sant Jordi Club
05.02.22 (ES) Madrid – Palacio Vistalegre
07.02.22 (PT) Lisbon – Campo Pequeno
09.02.22 (FR) Toulouse – Zenith
11.02.22 (CH) Basel – St. Jakobshalle
12.02.22 (IT) Milan – Lorenzini District
14.02.22 (AT) Vienna – Stadthalle
15.02.22 (HU) Budapest – BudapestArena
16.02.22 (CZ) Prague – Malá Sportovní Hala
18.02.22 (PL) Gliwice – Arena
20.02.22 (DE) Berlin – Velodrom
21.02.22 (DE) Hamburg  – Barclaycard Arena
23.02.22 (NL) Amsterdam – Ziggo Dome
24.02.22 (DE) Duesseldorf – Mitsubishi Electric Halle
25.02.22 (DE) Stuttgart – Schleyer-Halle
27.02.22 (DE) Munich – Zenith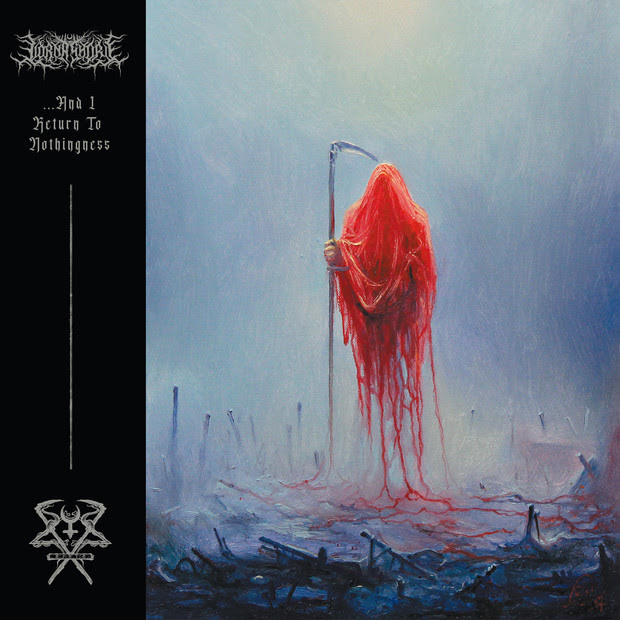 It is the first European run of dates for their "…And I Return to Nothingness – EP" that was released to an overwhelmingly positive response in August.
For LORNA SHORE, the triumvirate of songs at the heart of "…And I Return to Nothingness – EP" are nothing short of an exorcism – and a plunge into something darker. Check out:
"…And I Return To Nothingness": https://youtu.be/xHE5g9YgkFg
"To The Hellfire": https://www.youtube.com/watch?v=qyYmS_iBcy4
Line Up:
Andrew O'Connor – Guitars
Will Ramos – Vocals
Adam De Micco – Guitar
Austin Archey – Drums
LORNA SHORE online:
https://www.facebook.com/LornaShore
https://www.instagram.com/lornashore/
https://www.twitter.com/LornaShore