ESKIMO CALLBOY & SALTATIO MORTIS Release First New Version of "Hypa Hypa" + Official Video
From Their Upcoming Release "MMXX –  Hypa Hypa Edition"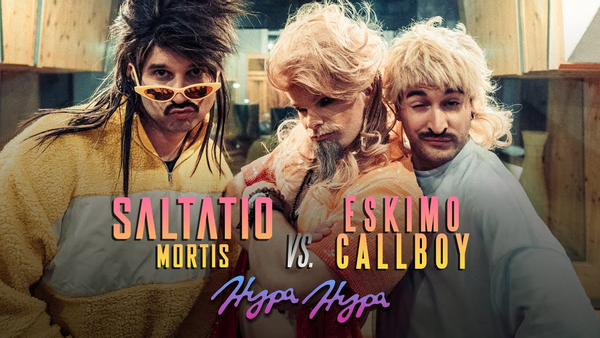 German Electro-Core Allstars ESKIMO CALLBOY collaborate with Medieval-Metal outfit SALTATIO MORTIS and release the first "Hypa Hypa" cover version from their upcoming EP "MMXX – Hypa Hypa Edition", accompanied by a funky video the band took the chance to completely reinterpret their smashing party hit with SALTATIO MORTIS, who put it into medieval garb with massive bagpipe power. 
 
Watch the video HERE.
Kevin comments: "Our friends from Saltatio Mortis did a great job and brought our song "Hypa Hypa" into their world. Absolute energy, total fun, especially on bagpipes!" 
 
The new edition of the "MMXX" EP includes the original songs of the EP, but it also comes with seven alternative versions of "Hypa Hypa" by diverse featured artists like the rock country legends The BossHoss , German popstar Sasha, the rap crew 257ers, medieval metal heros Saltatio Mortis, YouTuber Axel One, metalcore institution We Butter The Bread With Butter and a Remix by DJ-duo Gestört aber GeiL.  
Get your copy of "MMXX – Hypa Hypa Edition" or stream it HERE.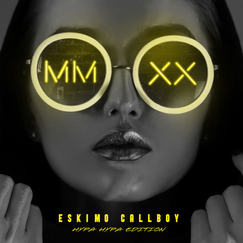 Tracklist 
Hypa Hypa  Hate/Love  MC Thunder II (Dancing Like A Ninja)  Monsieur Moustache  Dramaqueen  Prism (feat. Tobias Rauscher)  Hypa Hypa (by Saltatio Mortis)  Hypa Hypa (feat. The BossHoss)  Hypa Hypa (by 257ers)  Hypa Hypa (feat. Sasha)  Hypa Hypa (Remix by Gestört aber GeiL)  Hypa Hypa (by We Butter The Bread With Butter)  Hypa Hypa (by Axel One)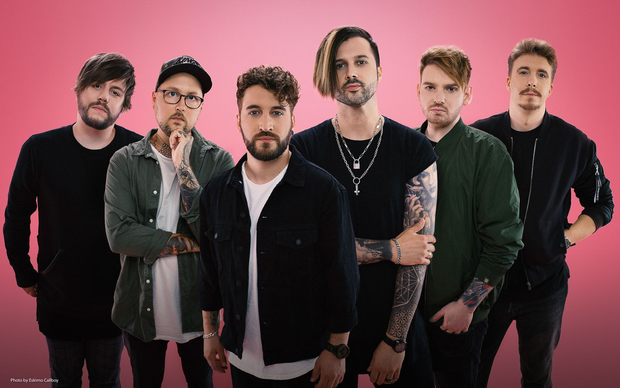 Make sure to check out ESKIMO CALLBOY live on their biggest headline tour ever: 
ESKIMO CALLBOY 
HYPA HYPA – EUROPEAN TOUR 2022 
07.01.22 (DE) Munich – Zenith 
08.01.22 (CH) Pratteln – Z7 
09.01.22 (IT) Milan – Legend Club 
11.01.22 (AT) Vienna – Arena 
12.01.22 (HU) Budapest – Barba Negra 
14.01.22 (DE) Ludwigsburg – MHPArena 
15.01.22 (DE) Cologne – Palladium 
16.01.22 (BE) Antwerp – Trix  
18.01.22 (NL) Amsterdam – Melkweg 
19.01.22 (UK) London – The Garage 
20.01.22 (FR) Paris – Boule Noire 
21.01.22 (DE) Offenbach – Stadthalle 
22.01.22 (DE) Leipzig – Haus Auensee 
24.01.22 (PL) Krakow – Kwadrat 
25.01.22 (CZ) Prague – MeetFactory 
26.01.22 (DE) Berlin – Columbiahalle 
27.01.22 (DE) Hamburg – edel-optics.de Arena 
29.01.22 (DE) Dresden – Schlachthof 
30.01.22 (DE) Rostock – Moya 
01.02.22 (DE) Kiel – Max (sold out) 
02.02.22 (DE) Hanover – Swiss Life Hall 
03.02.22 (DE) Saarbrücken – Garage 
04.02.22 (DE) Lindau – Club Vaudeville (sold out) 
06.02.22 (AT) Graz – PPC (sold out)   
ESKIMO CALLBOY are: 
Kevin – Vocals, Keys 
Nico – Vocals 
Daniel – Guitar 
Pascal – Guitar 
Daniel – Bass 
David – Drums 
Visit ESKIMO CALLBOY online: 
https://www.eskimocallboy.com/  
https://www.facebook.com/eskimocallboy  
https://twitter.com/eskimocallboy  
https://www.instagram.com/eskimocallboy/