"HARK! Agents of Speed and Rebellion! The day is finally upon us…
At long last, Bewitcher welcomes their most diabolical offering to date. Comprising 10 songs of Heavy Speed Metal birthed in the fires of rock 'n roll, "Cursed Be Thy Kingdom" is a journey to Hell and back. Don't let this fool you though, Bewitcher hasn't forgotten how to have a good time…
To mark this most joyous and unholy occasion, BEWITCHER has saved the best for last… accompanying "Cursed Be Thy Kingdom" is the release of the 4th and final single "Electric Phantoms"! Electric Phantoms" is classic BEWITCHER, through and through. 4 minutes of speed and debauchery, centered around their trademark riffs and pedal to the metal rhythm.
Click here for "Electric Phantoms": https://youtu.be/bIfxIhvoM6k
M von Bewitcher (vox & guitars) further comments: "Windswept highways, greasy night clubs, the smell of leather, beer and gasoline. In the glorious days when marauding heavy metal bands roam freely across the land, these things aren't just norms…they're the law. Take a ride with the "Electric Phantoms" and find out for yourself what the dirty road life is all about."
Click here for various options to purchase the album which is available in the following formats: https://bewitcher.lnk.to/CursedBeThyKingdom
Ltd. CD Digipak Digital Album black LP+CD & Poster   200 x dark green LP+CD & Poster at Distro Wholesale EU & EU Onlineshop 200 x creamy white LP+CD & Poster at EMP (also available: bundles with shirts) 200 x lilac LP+CD & Poster at High Roller Onlineshop (will be online shortly)
The US versions of the vinyl come without the CD and will be available May 14th, 2021:
black LP & Poster (US version)
200 x clear, orange, black burst LP & Poster at CM US Onlineshop
200 x red smoke LP & Poster from the Band
When one finds themselves at the proverbial crossroads – face to face with the Devil himself – who wouldn't choose the left hand path? Honestly, evil is too enticing, too strong, and Hell has the best music anyway. Hailing from Portland, Oregon, heavy metal mongrels BEWITCHER made their pact with Lucifer years ago, and have been walking the dark path ever since.
Recorded at The Captain's Quarters in Ventura, California by Armand John Anthony (Night Demon), and mixed by Cameron Webb (Motörhead, Megadeth), "Cursed Be Thy Kingdom" is a powerhouse, heavy-metal-rock-'n'-roll record forged in the white hot fires of Hell. The front cover was done by Paolo Girardi (Power Trip and many more).
Make sure to check out the videos previously released:
"Valley of the Ravens": https://youtu.be/gwHQTxBd1vA
"Mystifier (White Night City)": https://youtu.be/AcqoGvMR7L0
"Satanic Magick Attack": https://youtu.be/OmxKGT-3FdU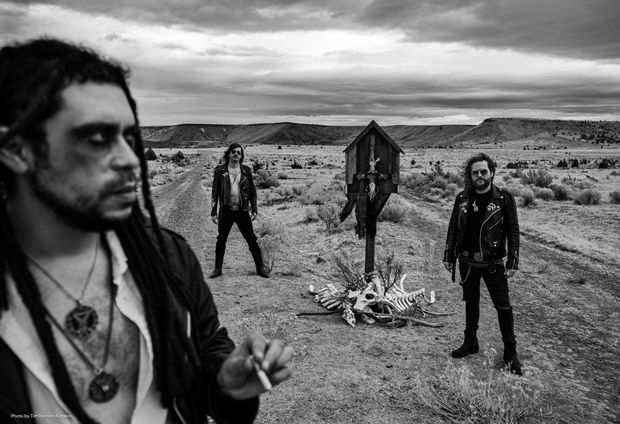 Line-Up:
M von Bewitcher – vox & guitars
A Hunter – drums & percussion
A Magus – bass guitar & backing vox
BEWITCHER online:
www.bewitcher.us
www.facebook.com/BewitcherOfficial
www.instagram.com/bewitcherofficial