Denmark' s Death Metal powerhouse BAEST release "Genesis" the new single from their upcoming album release "Necro Sapiens" (March 5th). With it comes a powerful live performance video – watch it HERE.
About "Genesis":
"When forging the foundation for a reign supreme, the genesis marks itself as the main suffocation of free thought.  In five days and five nights, the Abattoir prepared their grand design, the grand comedy, their eternal source of power."
The band also launched a private Facebook group for exclusive Baest-content and regularly news.
The band comments:
"Necro Sapiens! You are the foundation of Baest. The lifestyle, the experiences, the good and the bad times. The challenges and the successes! We are proud to invite you to this club – the official Baest fan club, where we (Lasse, Muddi, Simon, Sebastian and Svend) will throw in some extra goodies, some gnarly looks into the engine room of the band. Or maybe the engine room of the bus, that surely will break down on tour … Stay in contact with us, be the first ones to gain access to pre-orders, ticket sales, merch news and whatnot. Read the newsletter with personal notes from the guys. Stay in the family. We are one – we are none. Hail ye, Necro Sapiens."
Join the official fan club of Baest right here: https://www.facebook.com/groups/necrosapiens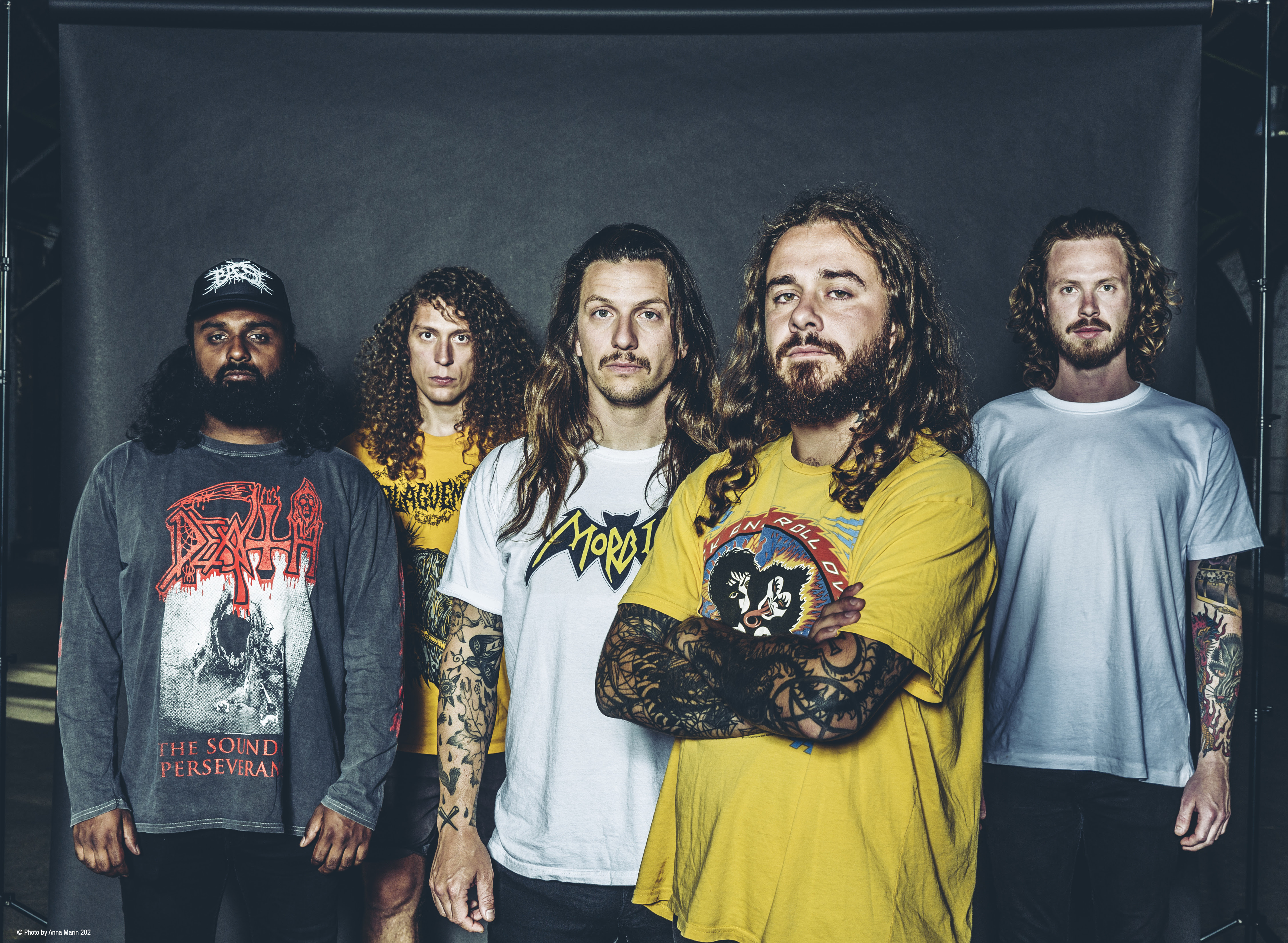 BAEST come from Aarhus in Denmark and have successfully established themselves as one of the country's most promising metal acts in recent years. While deeply rooted in straight-forward classic death metal inspired by genre legends like Dismember, Entombed, Morbid Angel, Death, and Bolt Thrower, the 2015 formed band evolved from a Danish underground phenomenon to an internationally touring act (2018 tour with Abbath, 2019 EU/UK trek with Decapitated). Also, at festivals like Summer Breeze, Copenhell, Ruhrpott Metal Meeting, Roskilde, they left audiences impressed and begging for more. After their already praised debut album "Danse Macabre" the band took it to the next level in 2019 and delivered "Venenum" where they refined their already steamroller-like signature sound. With the expectation-bar already set so high for their next record BAEST truly drops their most anticipated and most important album so far.
The album is available in the following formats and can be pre-ordered HERE.
CD Digipak – all outlets Black LP+CD – all outlets Digital Album – all platforms Glow in the dark LP+CD (limited to 500) – Official Band Shop Pink LP+CD (limited to 100) – CM Distro (SOLD OUT) Olive Green LP+CD (limited to 300) – CM Distro  Lilac LP+CD (limited to 200) – Metalvinyl.dk Deep Blood Red LP + CD (limited to 200) – all Danish outlets
Tracklist:
1.            The Forge
2.            Genesis
3.            Necro Sapiens
4.            Czar
5.            Abattoir
6.            Goregasm
7.            Towers of Suffocation
8.            Purification Through Mutilation
9.            Meathook Massacre
10.         Sea of Vomit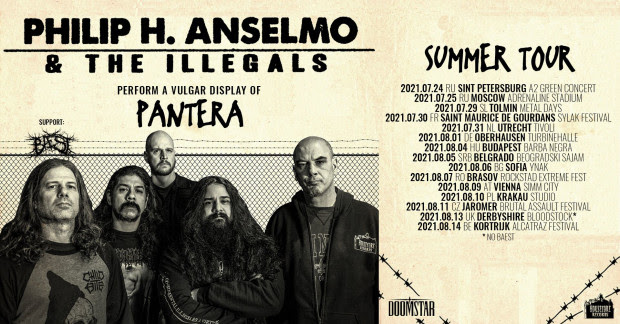 7/24/2021           St. Petersburg A2 green concert (RU)
7/25/2021           Moscow, Adrenaline Stadium (RU)
7/29/2021           Tolmin  Metal Days (SL)
7/30/2021           Saint maurice de gourdans, Sylak Festival (FR)
7/31/2021           Utrecht, Tivoli (NL)
8/1/2021             Oberhausen, Turbinenhalle (DE)
8/4/2021             Budapest, Barba Negra (HU)
8/5/2021             Belgrade, Beogradski Sajam (SRB)
8/6/2021             Sofia, Yunak (BG)
8/7/2021             Brasov Rockstad Extreme Fest (RO)
8/9/2021             Vienna, Simm City (AT)
8/10/2021           Krakau, Studio (PL)
8/11/2021           Jaromer, Brutal Assault Festival (CZ)
8/13/2021           Derbyshire, Bloodstock Festival (UK)
8/14/2021           Kortrijk Alcatraz Festival (BE)
Necro Sapiens Tour Dates:
25.02     SE           Malmo, Plan B*
26.02     SE           Gothenburg, Valand*
27.02     SE           Stockholm, Slaktkyrkan*
04.03     DK          Aalborg, Skråen
05.03     DK          Turbinen, Randers
06.03     DK          Horsens, Horsens Ny Teater
12.03     DK          Holbæk, Elværket
13.03     DK          Kongens Lyngby, Templet
18.03     DK          Herning, Fermaten
19.03     DK          Roskilde, Gimle
20.03     DK          Sønderborg, Sønderborghus
25.03     DK          Silkeborg, Kedelhuset
26.03     DK          Esbjerg, Tobakken
27.03     DK          Odense, Posten
01.04     DK          Copenhagen, Pumpehuset – Sold out
02.04     DK          Copenhagen, Pumpehuset – Few Tickets
03.04     DK          Aarhus, Train
07.04     DE          Hamburg, Headcrash
08.04     NL          Haarlem, Patronaat
09.04     NL          Leeuwarden, Neushoorn
10.04     NL          Nijmegen, Merleyn
11.04     BE          Hasselt, MOD
12.04     UK          London, The Black Heart
13.04     UK          Manchester, Satan's Hollow
14.04     UK          Glasgow, Audio
18.04     BE          Roeselare, De Verlichte Geest
21.04     DE          Wiesbaden, Kesselhaus
24.04     DE          Munich, Feierwerk
25.04     AT          Vienna, Escape
29.04     CZ          Ostrava, Barrak Music Club
30.04     CZ          Prague, Orthodox Club
04.05     DE          Leipzig, Naumanns
05.05     DE          Berlin, MuF
07.05     DE          Hannover, Lux
08.05     DE          Köln, MTC
04.06     PL           Mystic Festival
29.07     SL           Metal Days
06.08     BG          Sofia, Unak
12.08     CZ          Brutal Assault Festival
* Supporting Benediction
Keep your eyes peeled for more info coming soon!