BLOOD INCANTATION – sign with Century Media Records and set November release date for new album "Hidden History of the Human Race"!
Kick off North American tour with Immolation!
Cosmic death metal band BLOOD INCANTATION have joined forces with Century Media Records to release the band's much anticipated second studio album, "Hidden History of the Human Race", outside of North America, Mexico and Canada. Dark Descent Records will be handling the American release and the album will be available worldwide on November 22nd, 2019.
Featuring classic 1970s artwork by Sci-Fi god Bruce Pennington, "Hidden History of the Human Race" promises to be both a meditative inquiry on the Mystery & Nature of human consciousness, and a dynamic foray into the realms of progressive, brutal & atmospheric death metal, as revealed by BLOOD INCANTATION.
Recorded completely analogue at World Famous Studios in Denver, CO, "Hidden History of the Human Race" expands the sonic cosmos explored on BLOOD INCANTATION's critically acclaimed debut "Starspawn" and contains the following new tracks:
BLOOD INCANTATION – "Hidden History of the Human Race"
Slave Species of the Gods The Giza Power Plant Inner Paths (to Outer Space) Awakening From the Dream of Existence to the Multidimensional Nature of Our Reality (Mirror of the Soul)
Today, BLOOD INCANTATION also celebrate the start of the "The Last Atonement Tour", which will take them all across the USA with dark death metal pioneers Immolation!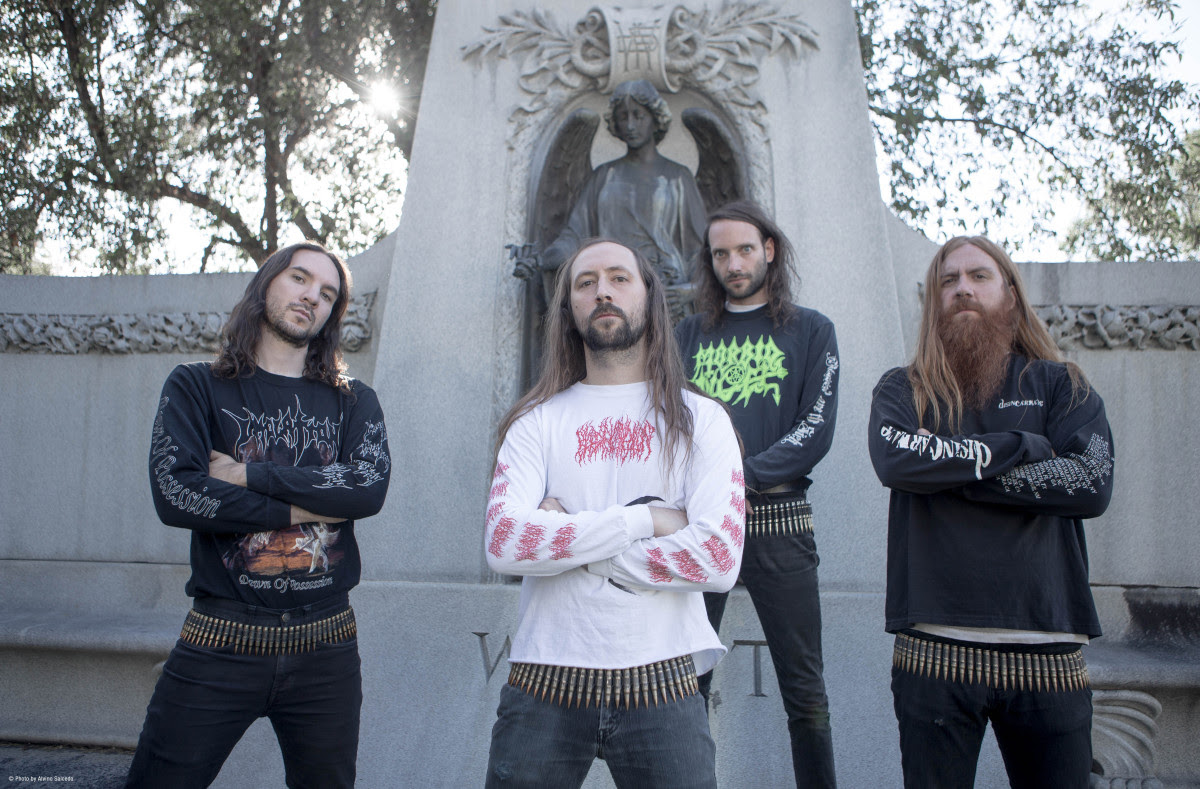 About BLOOD INCANTATION
BLOOD INCANTATION was formed in 2011 by guitarist/vocalist Paul Riedl and drummer Isaac Faulk. Joined by guitarist Morris Kolontyrsky and bassist Jeff Barrett, the band spent many years developing their sound through rehearsal demos and promo tapes before finally embarking on their first tour in 2015, which coincided with the release of their debut studio EP "Interdimensional Extinction" on Dark Descent Records. After releasing a now-infamous split EP with Spectral Voice, the band released its debut album "Starspawn" (Dark Descent Records) in 2016, which took the underground death metal world by storm with its cerebral whirlwind of intense and otherworldly atmospheric death metal. BLOOD INCANTATION have shared the road with acts like DEMILICH, CRUCIAMENTUM & NECROT as well as MORBID ANGEL, CANNIBAL CORPSE, IMMOLATION and even ARCTURUS. Through multiple campaigns across Europe and the USA, with appearances in Canada, Australia, Turkey, and Israel, BLOOD INCANTATION have established themselves as a powerful force in the underground live circuit, having additionally dominated a multitude of esteemed festivals such as Brutal Assault, Party-San Open Air, Kill-Town Deathfest, Beyond The Gates, Maryland Deathfest and more.
BLOOD INCANTATION is
Paul Riedl – Guitars, Vocals
Morris Kolontyrsky – Guitars
Jeff Barrett – Fretless Bass
Isaac Faulk – Drums
BLOOD INCANTATION online