Sweden's MASS WORSHIP are thrilled to announce the release of their self-titled debut album on October 18th , 2019. To give you a taste from "Mass Worship" the band is releasing a new recording of the song "Spiritual Destitution" which is available on all digital platforms and under this LINK.
The band comments on the song: "'Spiritual Destitution' tries to define what place we find ourselves within the forces of the universe and wherever the vast darkness takes us. Our endeavors to diverge from nature has led us to be in dissonance, not only with nature but also with ourselves and as a consequence the collective decisions we make often do more harm than good."
"Mass Worship" will be available in the following formats:
Ltd. CD Digipak
black LP+CD
light blue LP+CD (100) – available only via Evil Greed and CM Distro
Digital album
The following two vinyl colours are just available via the band:
clear LP+CD (100)
neon orange LP+CD (100)
The first preorders are already up HERE.
Before the release of the album MASS WORSHIP will play a number of warm up shows:
18.09.19 (SE) Trollhättan – Backstage Rockbar
19.09.19 (DK) Copenhagen – UnderWerket
20.09.19 (DE) Essen – Turock (w/ Judge)
21.09.19 (DE) Greifswald – Juz Klex
23.09.19 (CZ) Prague – Café Na Pul Cesty
24.09.19 (DE) Halle – Vl
25.09.19 (A) Vienna – Venster 99
27.09.19 (DE) Berlin – Cassiopeia (w/ Mortality Rate, Angst)
28.09.19 (DE) Hamburg – Gängeviertel
More shows will be announced shortly.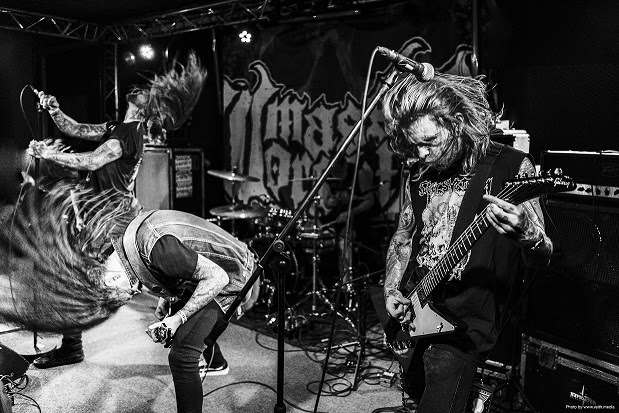 Hailing out of Scandinavia, MASS WORSHIP is a darkened metal band tastefully adding onto the rich legacy of Scandinavian metal with their uniquely heavy and gritty sound. The Stockholm based band was officially formed in January 2018, but the members carry a rich history comprising of relentless touring and recording schedules and the future that lies ahead of MASS WORSHIP will be no different.
On the back of the release of the "Spiritual Destitution" single (Isolation Records) the band set out on the road sharing stages across genres with diverse bands such as Vader, Comeback Kid, Malevolence and now-label mates Implore – followed by a year of meticulously working on "Mass Worship". Please stay tuned for new music and pre-order options soon.
The following gentlemen are already avid supporters of MASS WORSHIP:
Tomas Lindberg (At The Gates): "MASS WORSHIP brings back the gnarliness and attitude of the days of Breach and other more metal tinged hardcore bands from that era, I am struck by the energy and the ferocity in the delivery. Great stuff indeed. Prepare to get crushed!"
Marco Aro (The Haunted): "I'm so stoked about my friends in MASS WORSHIP finally getting their stuff out there… this gritty HM-2 onslaught is going to have you gasping for air right from the get go! I've been a fan of this band since the beginning… so big up to my boys… enjoy the ride ahead!"
Jonas Renkse (Katatonia, Bloodbath): "Good to see our buddies in MASS WORSHIP finally release a full-length. I'm sure their patented gritty machinery of death-y sludge will destroy some ears out there!"
MASS WORSHIP is looking forward to taking their heavy riffs out of the Scandinavian darkness and onto the road and beyond.
MASS WORSHIP online: