New York avant-garde metal outfit IMPERIAL TRIUMPHANT release their new music video for "Excelsior", directed by the band's very own Steve Blanco. Watch the video HERE!
"Many people flock to the big city with golden dreams in their eyes willing to do whatever it takes to succeed, like the ones they see at the top. It is the seal of approval; The medieval crest upon which the very fabric of humanity's elevation prevails. The failure and losing streak is a deceptive reality that slowly finds its way as diminishing returns, caught up in the illusory system. Ever upwards," states IMPERIAL TRIUMPHANT bassist Steve Blanco about the music video.
"Excelsior" is off the band's newest full-length album Alphaville , which came out this past summer via Century Media Records. The album was produced and engineered at New York's Menegroth Studio by Colin Marston (Behold… The Arctopus, Dysrhythmia, Krallice and Gorguts) and Trey Spruance (Mr. Bungle). The album also features a number of special guests such as Tomas Haake (Meshuggah) on taiko drums, Phlegeton (Wormed) on guest vocals, Yoshiko Ohara (ex-Bloody Panda) as part of the choirs, RK Halvorson as part of the Barbershop quartet, Sarai Chrzanowski as part of the choirs, Andromeda Anarchia (Folterkammer, Dark Matters) as part of the choirs, J Walter Hawkes on the trombone, and Colin Marston on guitars. Alphaville can be streamed and purchased HERE.
Just this Tuesday, the band announced the pre-order of their Alphaville cassette tape, which will ship in December and will be available in two unique editions. The deluxe edition will be available in 100 copies in an ultra clear tape shell with metallic gold print and a Norelco case with an additional slipcase. It will also include a 4 panel cover foldout, an embossed Total Dissonance Worship card, a sticker pack and will be signed by each band member. The standard edition will be available in 100 copies in a metallic gold tape shell with metallic silver print and a Norelco case with a horizontal obi strip. Pre-order the Alphaville cassette tape HERE.
IMPERIAL TRIUMPHANT officially began in 2012 with their debut release Abominamentvm. The line-up consisted of Zachary Ilya Ezrin on guitar/vocals and the rhythm section of their NYC contemporaries: Pyrrhon. Soon they met with drummer Kenny Grohowski and began to feature him on their next two releases Goliath (EP) and Abyssal Gods (LP). In 2015, they introduced bassist Steven Blanco to their lineup. In 2016, they released another EP Inceste, which saw them tour heavily that year with temporary second guitarist Max Gorelick. 2018 brought about their magnum statement, Vile Luxury . The full-length album, written collectively by the trio (Ezrin, Grohowski, Blanco), was a homage to their hometown New York City that brought jazz elements to the avant-garde black metal style in a way never achieved before. They toured extensively in Europe and North America from 2018-19 in support of the groundbreaking full-length.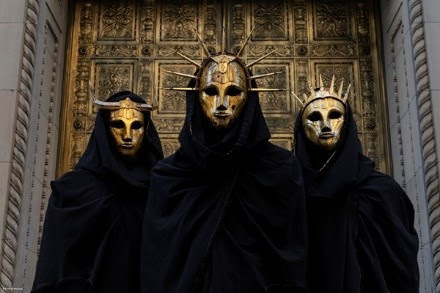 (Photo by Alex Krauss)
IMPERIAL TRIUMPHANT is Zachary Ilya Ezrin (vocals, guitars), Steve Blanco (bass, vocals, piano, mellotron, synths, taiko drums) and Kenny Grohowski (drums, taiko drums).
Follow Imperial Triumphant: