WILDERUN release visualizer video for "O Resolution!"
"Veil of Imagination" out now!
 #1 Eclipsed Magazine
#1 metal.de
#5 Metal Hammer (GER)
 "The combo comes up with one memorable melody after the other just like that and garnishes the songs with wonderful vocals and powerful choirs." – ROCK HARD (GER)
"'Veil Of Imagination' as a whole is a superbly produced work of art with an intoxicating charm (…), a perfect interplay of musical extremes – from elegiac-meditative piano passages to rough growls – and because of the wonderfully romantically-transfigured lyrics with links to William Wordsworth and T.S. Eliot it's fabulous philosophical mind food. – ECLIPSED
Today Progressive Metal outfit WILDERUN from Boston, Massachusetts, re-release their critically acclaimed album "Veil Of Imagination" the first time worldwide via Century Media Records. In order to celebrate the release they published a visualizer video for the song "O Resolution!", which can be watched here: https://youtu.be/q-xEIOXsl4w
 "Veil Of Imagination" is available as Ltd. CD Digipak (+ bonus track) and Gatefold black 2LP and can be ordered here: https://Wilderun.lnk.to/VeilOfImagination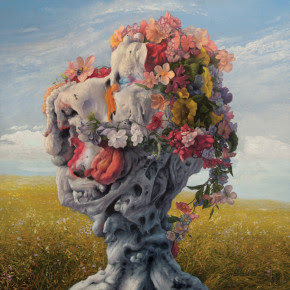 Tracklist:
The Unimaginable Zero Summer O Resolution! Sleeping Ambassadors of the Sun Scentless Core (Budding) Far from Where Dreams Unfurl Scentless Core (Fading)         The Tyranny of Imagination When the Fire and the Rose Were On
Formed in 2012, WILDERUN has previously released two albums, 2012's "Olden Tales & Deathly Trails" and 2015's "Sleep at the Edge of the Earth". With this slightly different approach to creating music, "Veil of Imagination" transforms and expands upon WILDERUN's already indefinable style, resulting in an album that is at once beautiful and fierce. Clean vocals transform into deathly growls as the band alternates between exquisitely-composed orchestrations and savage metal, all executed with technical prowess.
Check out their video "Far from Where Dreams Unfurl" HERE!
WILDERUN line-up:
Evan Anderson Berry: Vocals, Guitars, Piano
Dan Müller: Bass, Synths, Orchestrations
Jon Teachey: Drums
Joe Gettler: Lead Guitar
Wayne Ingram: Orchestrations
WILDERUN online: