MASS WORSHIP – Release Single & Video To "Celestial"
Today, Sweden's MASS WORSHIP release the second track "Celestial" of their up – coming, self – entitled album "Mass Worship" (out October 18th).
Check out the video HERE!
Fred (drums) states: "The opening track on the debut, "Celestial" is establishing the context for the record, dealing with the seemingly absurd cyclicality of all things, and our state of being merely subjected to the forces of the universe and taken wherever the vast darkness takes us."
"Mass Worship" will be available in the following formats and can be pre-ordered HERE!
Ltd. CD Digipak
Black LP+CD
Light blue LP+CD (100) – available only via Evil Greed and CM Distro
Digital album
The following two vinyl colours are just available via the band:
Clear LP+CD (100)
Neon orange LP+CD (100)
Before the release of the album MASS WORSHIP will play a number of warm up shows:
20.09.19 (DE) Essen – Turock (w/ Judge)
21.09.19 (DE) Greifswald – Juz Klex
23.09.19 (CZ) Prague – Café Na Pul Cesty
24.09.19 (DE) Halle – Vl
25.09.19 (A) Vienna – Venster 99
27.09.19 (DE) Berlin – Cassiopeia (w/ Mortality Rate, Angst)
28.09.19 (DE) Hamburg – Gängeviertel
Also don't miss the shows with Brutality Will Prevail & Dagger Threat:
30.11.2019 (FRA) Lyon – La Marquise
01.12.2019 (CHE) Martigny – Sunset Bar
02.12.2019 (Ger) Oberhausen – Kulttempel
04.12.2019 (GER) Berlin – Bi Nuu
05.12.2019 (GER) Hamburg – Bahnhof Pauli
06.12.2019 (NL) Den Bosch – Willem Twee
07.12.2019 (UK) London – New River Studios
08.12.2019 (UK) Cardiff – Clwb Ifor Bach
The following gentlemen are already avid supporters of MASS WORSHIP:
Tomas Lindberg (At The Gates): "MASS WORSHIP brings back the gnarliness and attitude of the days of Breach and other more metal tinged hardcore bands from that era, I am struck by the energy and the ferocity in the delivery. Great stuff indeed. Prepare to get crushed!"
Marco Aro (The Haunted): "I'm so stoked about my friends in MASS WORSHIP finally getting their stuff out there… this gritty HM-2 onslaught is going to have you gasping for air right from the get go! I've been a fan of this band since the beginning… so big up to my boys… enjoy the ride ahead!"
Jonas Renkse (Katatonia, Bloodbath): "Good to see our buddies in MASS WORSHIP finally release a full-length. I'm sure their patented gritty machinery of death-y sludge will destroy some ears out there!"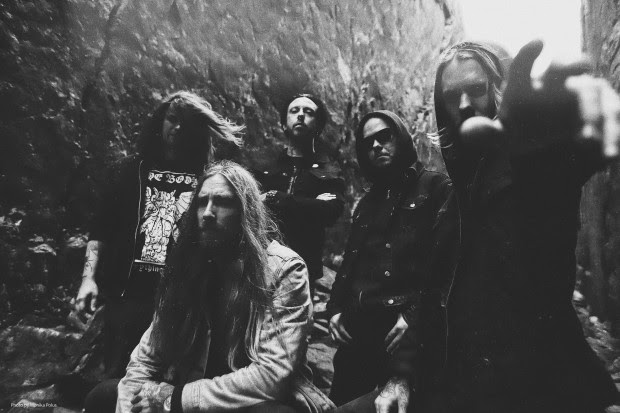 MASS WORSHIP are:
Claes Nordin – Vocals
Søren Bomand – Guitar
Gustav Eriksson – Guitar
Dadde Stark – Bass
Fred Forsberg – Drums
MASS WORSHIP online: