INSOMNIUM Release Single & Video To "Valediction"
On October 4th , 2019, Finnish melodic death metal masters INSOMNIUM release their new album "HEART LIKE A GRAVE" via Century Media Records worldwide. To get a first glimpse of their new masterpiece, watch the video to "Valediction" HERE!
The impressive video was shot by Vesa Ranta and Aapo Lahtela at Kaira Films, who shot two videos in the same session with the band in the beginning of summer. These two videos are bound together, so they form one longer story.
The band comments:
"When the album theme is to dive deep into the black waters of Finnish melancholy, then Vesa Ranta is truly the right man to visualize the story. Album booklet is crafted from Vesa's epic landscape photos and these same themes continue in the two videos that we shot at Koli national park. Woods and lakes, sorrow and longing. That's the heart of Insomnium." (INSOMNIUM)
"Insomnium is one of those bands that have been inspiring us. We have wanted to work with them for long time. Valediction is the beginning that sets the mood and presents the characters. The story will unfold in the next music video that will be released later. And as the album theme demands this tale here is grim indeed" (RANTA & LAHTELA)
Pre – order your copy of "Heart Like A Grave" HERE. The following formats are available:
Ltd. Deluxe 2CD Artbook
Standard CD Jewelcase
Gatefold black 2LP+CD
Gatefold white 2LP+CD
Gatefold transp. magenta 2LP+CD
Gatefold silver 2LP+CD
Gatefold transp. sun yellow 2LP+CD
Gatefold transp. blue 2LP+CD
Gatefold golden 2LP+CD
Gatefold lilac 2LP+CD
Gatefold red 2LP+CD
INSOMNIUM will play a few selected Finnish shows to celebrate "Heart Like A Grave"
25.10. The Circus, Helsinki
26.10. Olympia, Tampere (SOLD OUT)
01.11. Lutakko, Jyväskylä
02.11. Kerubi, Joensuu
In November INSOMNIUM will embark on a European tour with Black Dahlia Murder to support the new album. See the exact dates below:
METAL HAMMER, EMP, BANDBOND, MUSIX and METAL.DE present:
TOUR LIKE A GRAVE 2019
INSOMNIUM THE BLACK DAHLIA MURDER STAM1NA (*)
12.11.2019    (FR)    PARIS /Alhambra
13.11.2019    (FR)    BORDEAUX / Barbey
14.11.2019    (ES)    BARCELONA / Razzmatazz 2
15.11.2019    (ES)    BILBAO / Santana 27
16.11.2019    (ES)    MADRID / Cats
18.11.2019    (FR)    LYON / Ninkasi Kao
19.11.2019    (CH)    PRATTELN / Z7 
20.11.2019    (AT)     VIENNA  / Arena
21.11.2019    (PL)    CRACOW / Kwadrat
22.11.2019    (PL)    WROCLAW / Pralnia
23.11.2019    (CS)    ZLIN / Winter Masters of Rock
24.11.2019    (DE)    DRESDEN / Reithalle
26.11.2019    (HU)    BUDAPEST / Barba Negra
27.11.2019    (DE)    MUNICH / Backstage Werk
28.11.2019    (DE)    LUDWIGSBURG / Rockfabrik
29.11.2019    (DE)    LINDAU / Club Vaudeville
30.11.2019    (SI)     Winter Days Of Metal Festival
01.12.2019    (IT)     ROME / Largo
02.12.2019    (IT)     TREZZO SULL'ADDA (MILAN) / Live Club
04.12.2019    (DE)    LEIPZIG / Felsenkeller
05.12.2019    (NL)    LEEUWAARDEN / Neushoorn
06.12.2019    (DE)    OBERHAUSEN / Ruhrpott Metal Meeting (*) 
07.12.2019    (DE)    GEISELWIND / Christmas Bash (*)
08.12.2019    (DE)    BERLIN / Astra Kulturhaus  
09.12.2019    (DE)    FRANKFURT / Batschkapp
10.12.2019    (DE)    HANNOVER / Capitol
11.12.2019    (DE)    HAMBURG / Markthalle
12.12.2019    (LU)    LUXEMBOURG / Den Atelier (*)
13.12.2019    (BE)    ANTWERP / Trix (*)
(*) without STAM1NA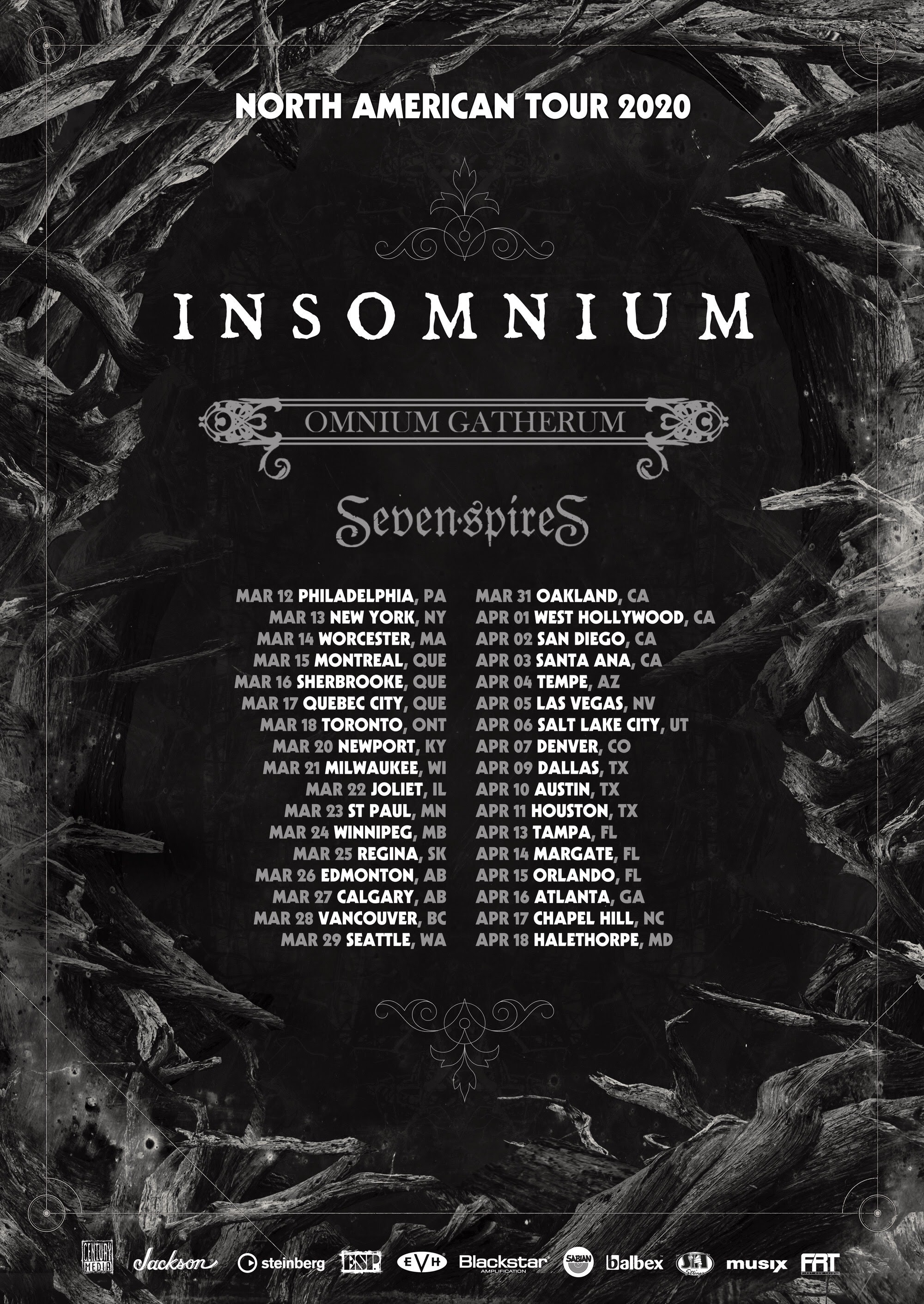 12.03.2020 Philadelphia, PA
13.03.2020 New York, NY
14.03.2020 Worcester, MA
15.03.2020 Montreal, QUE
16.03.2020 Sherbrooke, QUE
17.03.2020 Quebec City, QUE
18.03.2020 Toronto, ONT
20.03.2020 Newport, KY
21.03.2020 Milwaukee, WI
22.03.2020 Joliet, IL
23.03.2020 St. Paul, MN
24.03.2020 Winnipeg, MB
25.03.2020 Regina, SK
26.03.2020 Edmonton, AB
27.03.2020 Calgary, AB
28.03.2020 Vancouver, BC
29.03.2020 Seattle, WA
31.03.2020 Oakland, CA
01.04.2020 West Hollywood, CA
02.04.2020 San Diego, CA
03.04.2020 Santa Ana, CA
04.04.2020 Tempe, AZ
05.04.2020 Las Vegas, NV
06.04.2020 Salt Lake City, UT
07.04.2020 Denver, CO
09.04.2020 Dallas, TX
10.04.2020 Austin, TX
11.04.2020 Houston, TX
13.04.2020 Tampa, FL
14.04.2020 Margate, FL
15.04.2020 Orlando, FL
16.04.2020 Atlanta, GA
17.04.2020 Chapel Hill, NC
18.04.2020 Halethorpe, MD
Insomnium are:
Markus Hirvonen – drums
Ville Friman – guitars and vocals 
Niilo Sevänen –vocals and bass
Markus Vanhala – guitars
Jani Liimatainen – guitars and vocals
Insomnium Online:
Offical Website
Facebook
Twitter